Micro Maxi Deluxe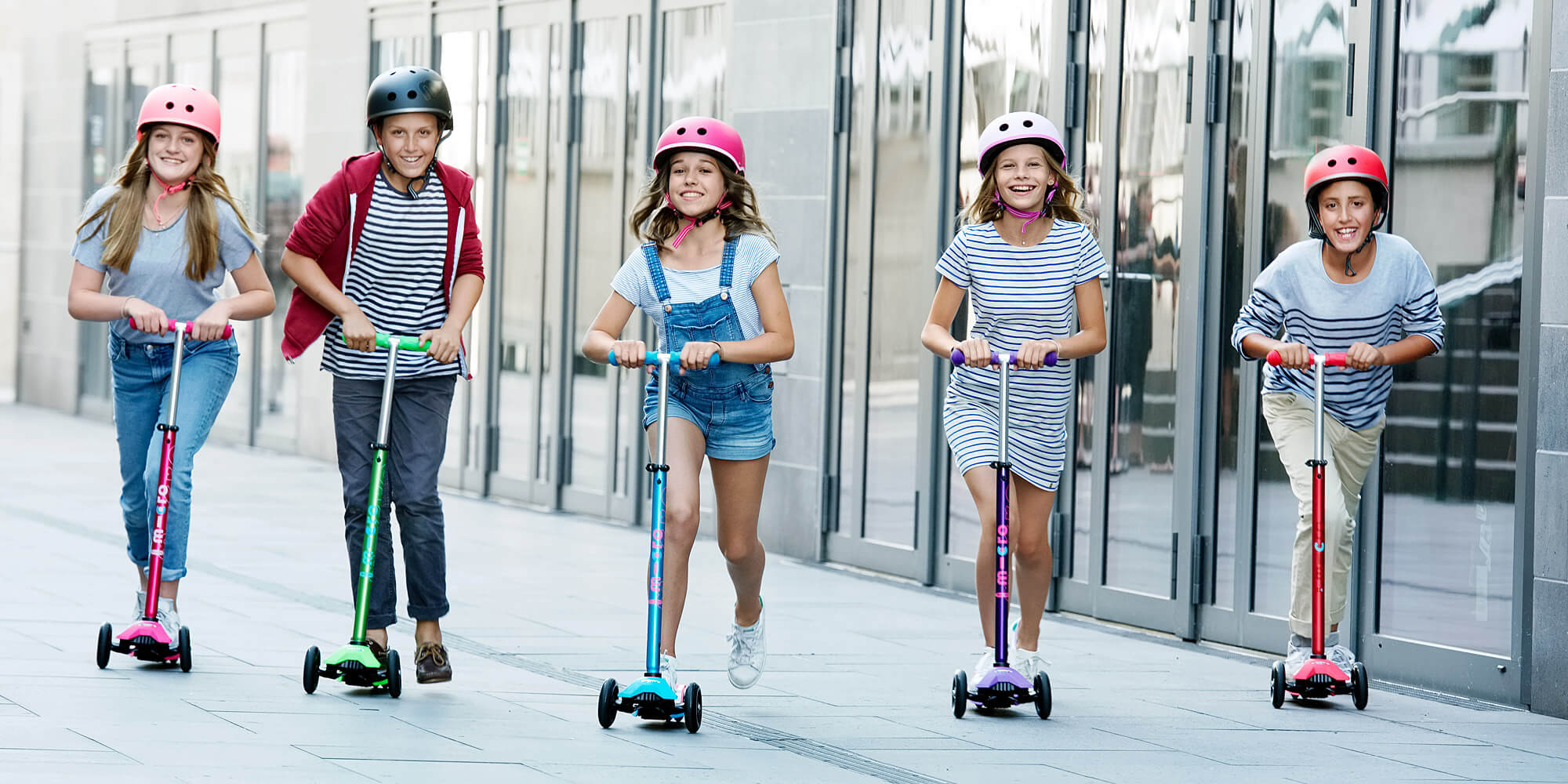 Swiss maker Micro's Maxi model sets the benchmark for three wheel lean-to-steer scooters.
The Micro Maxi Deluxe is an excellent choice either for a kid who has outgrown a small three wheel scooter or for a teenager who simply loves the way a lean-to-steer scooter moves. Suitable for ages from 5 years up to a rider up to 70Kg in weight.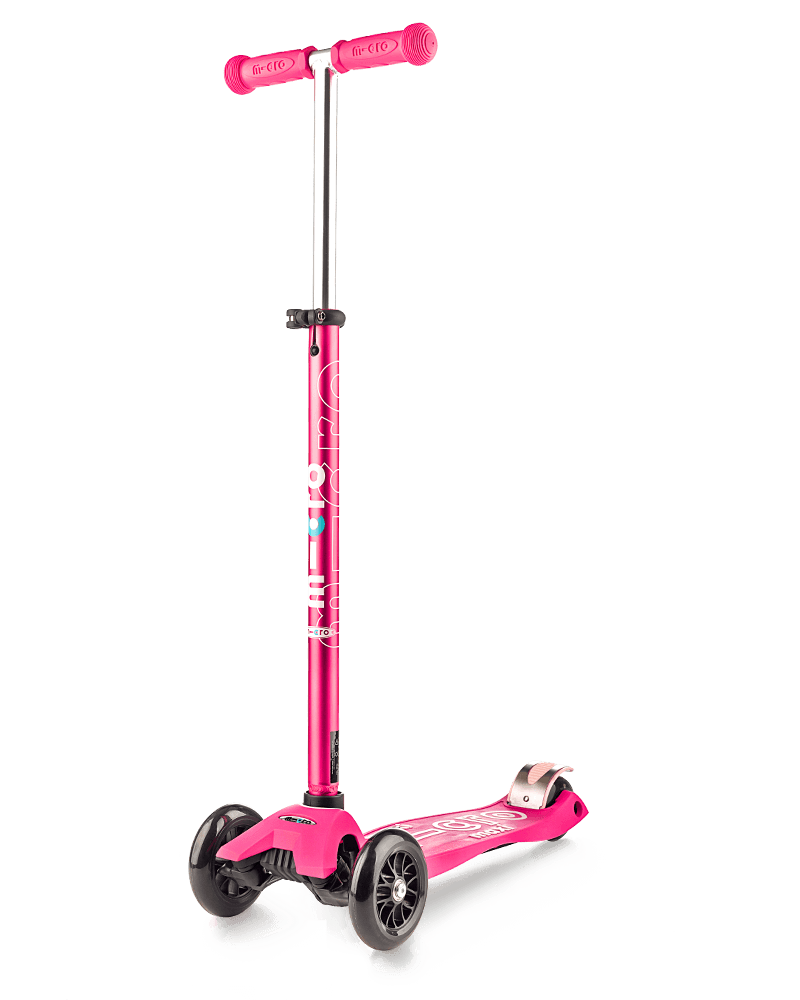 The Maxi Deluxe is the updated version of the Micro Maxi. It features a number of significant improvements.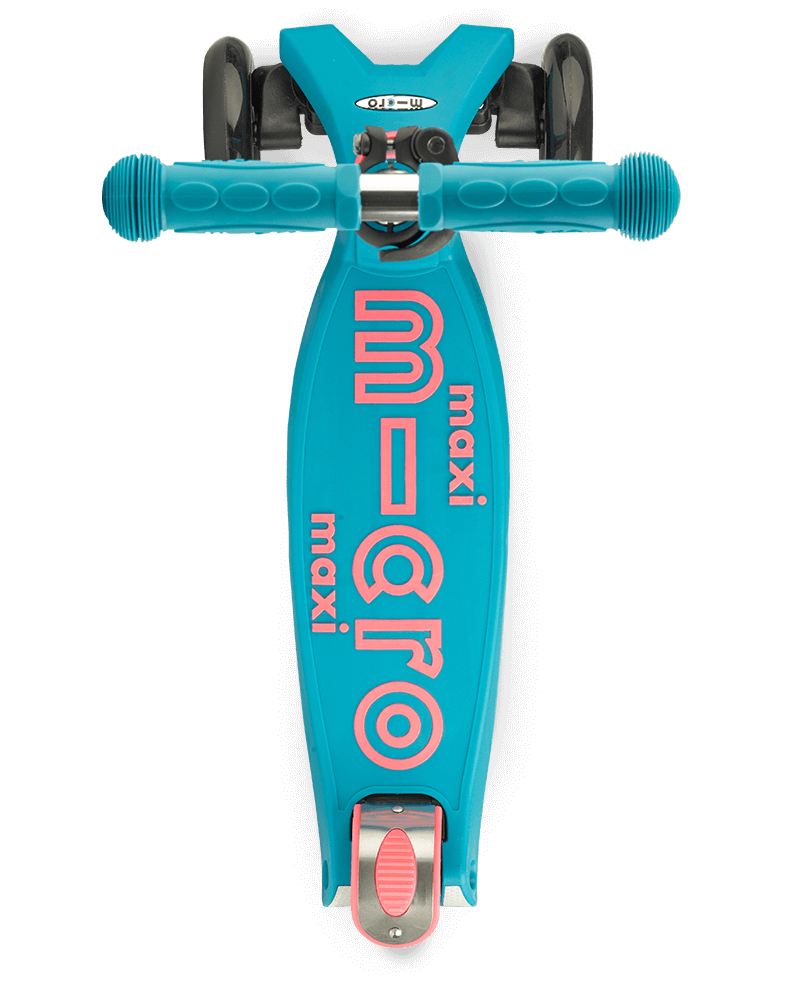 The Micro Maxi Deluxe has a deck embossed with the Micro logo. This gives it a modern look and the embossed relief also acts as gripping threads, giving the deck anti-slip properties compared to the Micro Maxi. The deck structure has also been improved and now carries a rider of up to 70kg. That means some adults can use it as well, and it certainly will not be outgrown by a kid because of weight.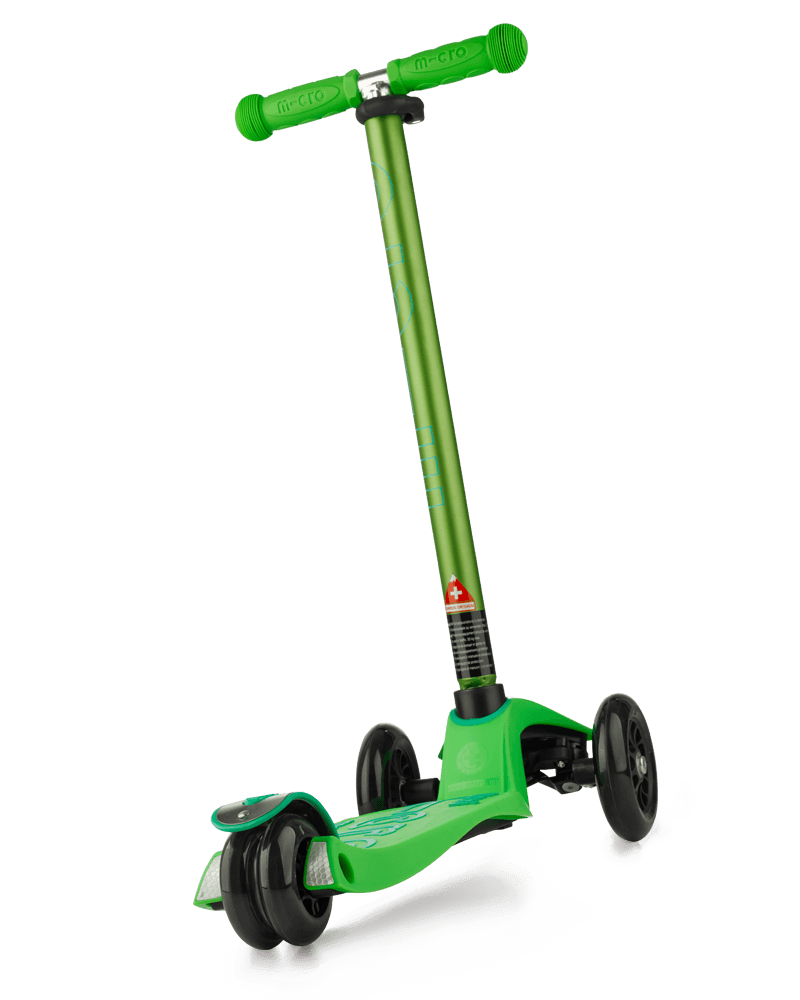 The Micro Maxi Deluxe also sports a beautiful anodized steering column and handle bar as a standard. This finish is both beautiful and surprisingly durable against wear and tear, confirming the Micro Maxi Deluxe as a high quality product.
The Micro Maxi Deluxe and Micro Mini Deluxe are also the scooters with the largest number of tasteful color options, making them extremely popular with both kids and riders alike.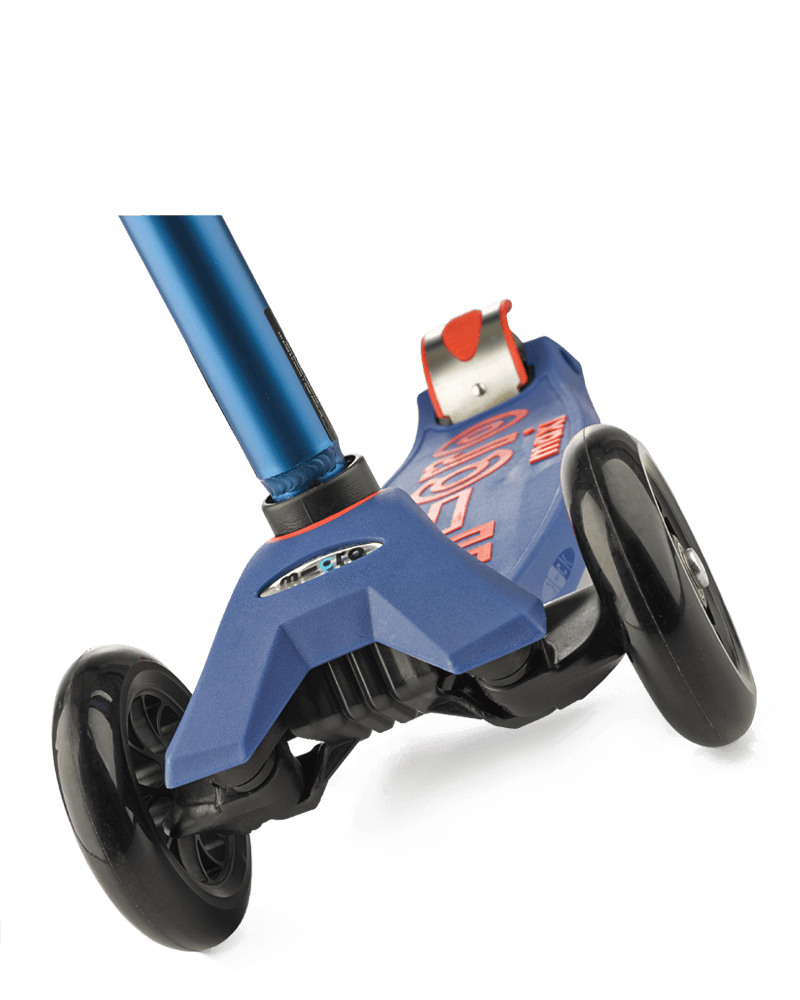 The scooter itself is only 2.5kg, which is amazingly light. The high rebound polyrethane wheels and high precision skateboard-grade bearings a offer excellent glide-efficiency.
The front wheel joints are probably the most well balanced in the industry. It strikes a good compromise between being soft enough to be easy to steer, yet stiff enough to lend support to a child still learning to ride. The articulation of the joint is also extremely smooth and natural.
Overall, the Micro Maxi Deluxe is clearly a superior 3 wheel lean-to-steer kick scooter. Both its modern design, updated colours and high quality sets it well apart from other 3 wheel kick scooters in the market.
If you let your child ride on a Micro Maxi Deluxe, and then ride any other a three-wheel scooter from a different brand, chances are your kid will prefer the Micro. The product speaks for itself. No wonder  the Micro Maxi Deluxe scooter is still the single most-copied 3-wheel kick scooter by knock-off manufacturers.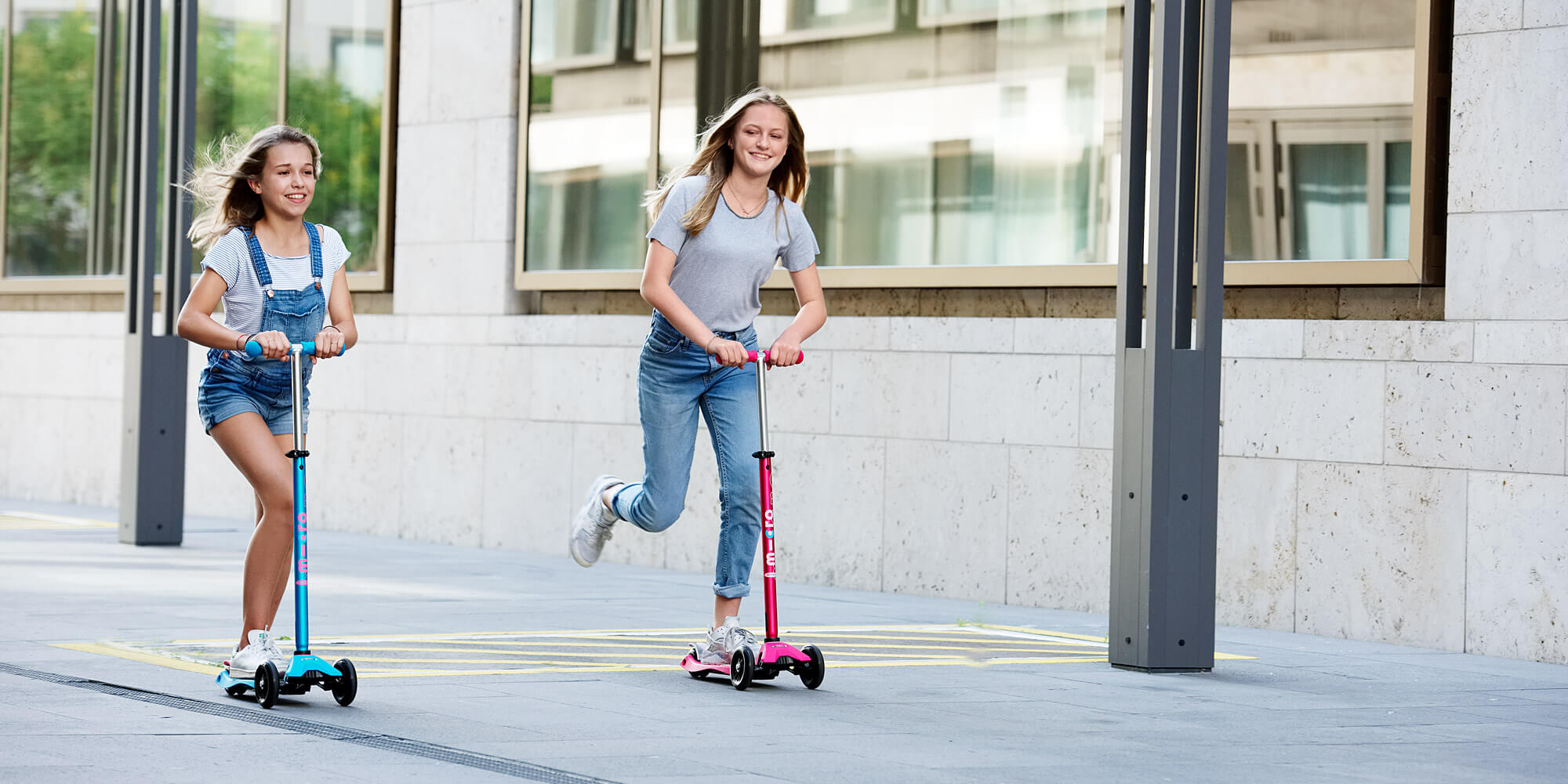 The Micro Maxi Deluxe comes highly recommended by Decks & Scooters because we have sold many of these and get practically no returns arising from quality or performance issues. The price is well worth it. 
LED Light up wheels
5 colour variants are available with LED wheels: Blue, Red and Purple.
The LED wheels are motion-powered and light up as the wheels spin, they do not require batteries. Not only do they look good, the LED light wheels help your kids be more visible in the dark, keeping them safe as they enjoy the scooter.
Unlike LED wheels found on cheap scooters which no longer light up after some rough and tumble, these Micro's durable LED elements stay active and functional for much longer.
Original Micro LED replacement wheels are available as after-market upgrades for the standard Micro Maxi Deluxe scooters.
Our Specialist Opinion
If your kid is any older than a toddler and needs a three-wheel kick scooter, the Micro Maxi Deluxe is the scooter to have. Tough, beautiful and well engineered, the Micro Maxi Deluxe has probably the best build quality in the market for a lean-to-steer kick scooter. The lean-to-steer mechanism is perfectly balanced between being easy to steer and being supportive to the lateral balance of a growing child. This is the single most copied three wheel kick scooter in the world and has been a fore-runner for years. Parents worldwide trust it to be the do-all kick scooter, from the occasional weekend ride in the park to a trusty kid's commuting companion for the daily school run. If you are looking for a three-wheel kick scooter and is not constrained by budget, you will buy this scooter. Suitable for kids from 5 years to pre-teen age.
SPECIFICATIONS
Age group: 5 years to 70Kg maximum weight
Weight 2.5 kg
Handlebar height: extendable 67 - 91 cm
Wheels: front 120mm, rear twin 80mm
Deck: Width 14.2 cm x length 33 cm
Deck material Glass fiber reinforced plastic (GRP)
Box Dimension: 60 x 27 x 17 cm